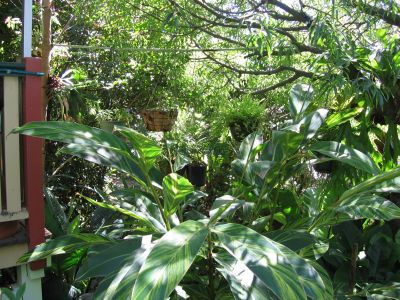 My name is David Taylor and although originally from Brisbane in Queensland, I now live in North Arm, a rural area just outside the pretty town of Murwillumbah in the Northern Rivers area of the state of New South Wales, Australia. I live on about 6 acres of land, of which about 3 acres is virgin rainforest.

My interests include Australia's Highway One (I'm currently writing Volume 1 of a 3 part travel guide book, Volume 1 covers the 4,000km Melbourne to Cairns section), rainforest plants, the environment, music of all kinds but particularly rock and pop from the 70's and 80's, playing guitar (badly but with pleasure) and the occasional jam session with my bass guitar playing son Johari, all things Spanish (including food, music, culture, history etc), and particularly car trips into the country-side to explore rural, historic, abandoned and desolate places in Queensland and northern New South Wales, Australia.
I share the house with my friend and fellow hispanophile and Spanish-speaker John, Guapo (an Alexandrine Parrot) and Carlota (a Sulphur-Crested Cockatoo). I have two sons; Johari (1979) and Harith (1981) from a previous marriage and am still good friends with my ex-wife Aishah.

I speak Chinese (Mandarin, but getting rusty) and Spanish. I retired in April 2011 adter 14 years with QMI Solutions Ltd, a consulting company in Eight Mile Plains in Brisbane. Prior to that I started, successfully ran for three years and then sold a computer retail business. Prior to that, I spent over 21 years in the Royal Australian Air Force (RAAF) as a Radio Technician (Air), Linguist (Mandarin Chinese) and Intelligence Officer.